영어 전용
번역 보류중
이 페이지는 현재 영문판만 가능합니다. 우리는 전체 웹사이트가 번역되도록 노력중입니다. 여러분의 이해에 감사드립니다.
Here's your daily devotional!
If you wish to receive these free devotionals every weekday by E-mail, click the button below. Note: you'll have to log in or create your membership account first. Membership in the League is free. Join now!
Sign up to receive the Daily Devotional
""Is Your Life a Blessing to Others?""
Philippians 1:25
Convinced of this, I know that I will remain, and I will continue with all of you for your progress and joy in the faith…
Thoughts for Today:
I read the story once of a preacher who was invited to speak at a small church in the south. At the conclusion of his message, the preacher shouted, "Raise your hands if you're looking forward to going to heaven. Praise Jesus!" Everyone in the congregation jumped to their feet and raised their hands. The organ played, people danced, and praise hymns broke out amid shouts of, "Hallelujah!" One small boy remained seat quietly. The preacher pointed at him and asked, "Boy, don't you want to go to heaven?" The boy answered, "Sure I do, but I thought you were getting a bunch of people ready to go tonight." I think that's probably true for many of us. We'd like to go to heaven, just now right now.

Paul had a completely different perspective. The Lord had given him a vision and revelation of heaven that made him want to go there now. (2 Corinthians 12:1a-4: "Although there is nothing to be gained, I will go on to visions and revelations from the Lord. I know a man in Christ who fourteen years ago was caught up to the third heaven. Whether it was in the body or out of the body I do not know—God knows. And I know that this man—whether in the body or apart from the body I do not know, but God knows—was caught up to paradise and heard inexpressible things, things that no one is permitted to tell.") Yet, Paul continued to remain in his physical body. Why? For the benefit of everyone else.
Questions to Ponder:
Unlike Paul, many people hold on to physical life because they fear the unknown. In other cases, it is for solely for selfish reasons (for example, not wanting to give up what we have, etc.). However, the Bible tells us that it is only when we lose our lives (die to self and live for Christ and others), that we truly find out what life is all about. (Matthew 10:39: "Whoever finds their life will lose it, and whoever loses their life for my sake will find it.") Have you "found" your life? Is it in Christ? In what ways has Christ made your life a blessing to others?
Sign up to receive the Daily Devotional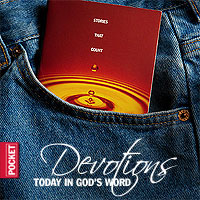 There's nothing like God's Word to create purpose in your life that lasts the entire day and beyond. We encourage you to Read, Carry and Share the Word of God. Pocket Devotions are sent by E-mail every weekday (Monday to Friday). On weekends we encourage you to be creative and study on your own in any area of Scripture where God leads you.
You can start from Day 1 at any time. Messages are sent automatically. Subscribe now! You may unsubscribe at any time.
About the author
Pocket Devotions are written by Mike Brooks. A retired businessman, he is Moderator of South Shores church, leads the Deacon Board, serves on the finance committee, and he teaches a Men's Bible study and the Men's Ministry. Mike has a passion for evangelical missions. He is the husband of Sherry; the father of Ryan, Natalie, Krissy, Rebecca, and Amanda; the father-in-law of Ariel; and the grandfather of Conner and Christian.